New 2022-2023 PIA National Officers Sworn In
October 7, 2022
WASHINGTON – Officers who comprise the executive committee of the National Association of Professional Insurance Agents (PIA) were installed during the group's annual Board of Directors meeting held September 22, 2022 in San Diego, CA.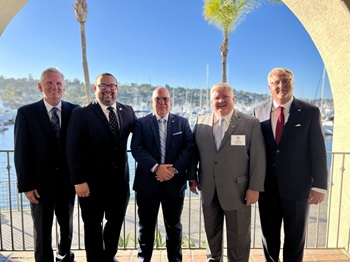 Gerald F. Hemphill, CIC, LUTCF, of Richmond, Virginia was installed as president. Hemphill was sworn in together with his four fellow national officers: Richard A. Savino, CIC, CPIA, of Warwick, New York, President-elect; Ariel Rivera, MBA, CIC, CPIA, of San Juan, Puerto Rico, Vice President/Treasurer; Mark A. Suhr of Seward, Nebraska, CIC, CPIA, Secretary/Assistant Treasurer; and Anthony "Tony" Curti, CIC, LIC, of Bloomfield Hills, Michigan, Immediate Past President. All the officers will serve one-year terms that began on October 1, 2022 and run through September 30, 2023.
Photo caption: PIA National 2022-2023 Officers (L to R): Mark A. Suhr, Ariel Rivera, Richard A. Savino, Gerald F. Hemphill, Anthony "Tony" Curti.
Founded in 1931, PIA is a national trade association that represents member insurance agents and their employees who sell and service all kinds of insurance, but specialize in coverage of automobiles, homes and businesses. PIA's web address is
http://www.pianational.org
.