Sen. John Hoeven Presented with PIA Legislator of the Year Award
May 11, 2023
WASHINGTON — Senator John Hoeven (R-ND) has been presented with the 2023 PIA Legislator of the Year Award by the National Association of Professional Insurance Agents (PIA). The Senator accepted the award during PIA's Advocacy Day on Capitol Hill and spoke to members.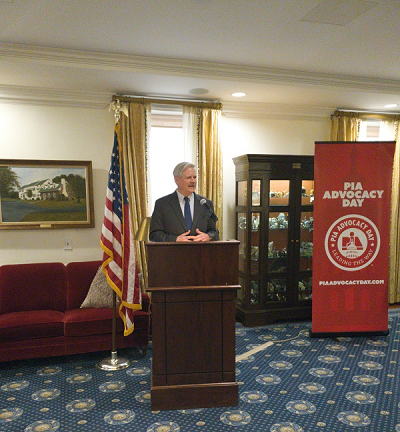 Sen. Hoeven was chosen to receive the award due to his steadfast leadership in defending the federal crop insurance program and his past and current work on the Farm Bill. As a senior member of the Senate Agriculture Committee Senator Hoeven played a crucial role in the passage of previous Farm Bills that provided the nation's producers with the certainty they need to plan for the future, along with new tools to manage risk with enhanced crop insurance. With the Farm Bill up for reauthorization this year the senator will again be critical to ensuring a strong crop insurance program.
"Perhaps most importantly for PIA, the Senator has been a tireless champion of the role agents play in delivering crop insurance to farmers and has been enormously supportive of PIA's efforts to ensure independent agents are fairly compensated for their work," said PIA vice president of government relations Jon Gentile.
"Sen. Hoeven's leadership on crop insurance issues remains crucial as the upcoming Farm Bill is developed by Congress. PIA thanks him for his leadership and we look forward to continuing to work with him over the coming months," said PIA President Gerald Hemphill.
Founded in 1931, PIA is a national trade association that represents member insurance agents and their employees who sell and service all kinds of insurance but specialize in coverage of automobiles, homes and businesses. PIA's web address is
www.pianational.org
.